Materials that might evoke a pre-industrial age, such as earth, rocks, clothing, paper and rope.
Essence of life, experience
Ingredients, ununiformed finish
Non binding, available to all
Power of touch, skin care product is sensory, tactile should be reflected.
CERAMIC PROCESS:
Use of liquid clay slip

Pour like cream, vessel to vessel

Beauty of process

Handmade

Use for making multipul

imprint of the mold 'flashing' show imperfections seams etc. to describe making process
ARTISTIC IMAGERY:
Relation of skin to earth
VESSEL TO BODY:
Integrating the concept of vessel to body

Glass vessel with ceramic accent

Utility, function, form - Nudity, freedom, sensuality
INTEGRATED MOOD:
Everyday:
Everyday materials - Everyday product
Life as Art - Essentials:
bathing, connection, joy, creativity, freedom, nature, space
Poverty of Life when missing connection to earth or social physical connection. Creating a sense of space with imagery - true luxury
PROPOSED WORK:
Limited edition ceramic vessels

Creating & curating sensory imagery

Artistic contribution on installation/ dynamic interaction
CERAMIC PROCESS:
Concepting

Design phase

Samples

Production
ACTION:
Videos: GIFS # # BEAUTY/ NATURE /TRAVEL / ART/ FILM /CULTURE /FURNITURE /MUSIC /SUSTAINABILITY
HEALTH: MENS / WOMENS / UNISEX
ELEMENTS: EARTH/ BODY / HUMAN/ SUN / LIGHT / WATER/ URBAN/CITY
Flow of content by Lina.Combination of highly dynamic moving material & more mediative stills: Wisdom of the amazon. Variation. Diversity. Strength. Sensuality. Humour.
Shoots:
1.Intimate Diaries
2.Model in Nature
3.House and Objects
PROPOSAL FOR CREATIVE:
BODY RITUAL DIARIES:
Individuals
celebrate health, sensuality and the power and privacy of ritual. The people participating will remain anonymous, the mood is voyeuristic, playful and intimate - shot in a beautiful and tasteful joyful & provocative way.
Nude with sheet.
Instagram ad, friends, 'street casting'
Anonymous

Voyeuristic

Playful

Intimate
NATURE DIARIES:
Expansive
Brazil

West Cost LA

Bellport/NYC/ NJ
BODY IN NATURE:
Models - Agency casting, Beauty -Initial shoot in Bellport?
OBJECTS
Ingredients

art works

furniture

Use of text?
SPLIT SCREEN & DIARY SEQUENCE:
Simplistic split screens - tenstion between binary oppostions
nature v body

minimal v maximal

movement v stillness

Flip through diary sequence (similar to Andres iphone diaries)
BROKEN SCREENS
Distortion

Movement

Repetition

Formation
REPEATED IMAGES
creating a sense of movement in stills - freeze frames

repetition

simultaneous videos repeated
OVERLAY VIDEO
Multipul videos playing off each other

simplistic 'work book cutting'

Body v nature
TEXT
Text overlay video

subtitle

stream from left to right
JUST MOVING TEXT
Translations

Expanding and contracting words & language

Mixing portugese and English
HYPNOTIC AND NATURAL MEDITATIVE NATURE SCENES
high energy - one after another high sun, running water

low energy - fade in an out for dreamy mood

High Energy - one frame after another - high sun, running water

Low Energy - fade in and out dreamy mood

Sound music/natural sounds
FC INSTA AMAZON DIARIES
Flick through diary of images - see modern matter / OM O Creates

Reduce quality of film - (film off screen/ film projection on wall)

ENERGY - close ups and obscurity

Elements: water - fire - smoke - bodies - movement - life
Mini Starter Videos
Concept 1:
Geli putting on knickers & LA swimming pool
Concpet 2:
Shadow walking past water, Brazilian music playing (+ something)
Concept 3:
Sun flash, sun flash, sun on water static
Concept 4:
'Big piss pink flower long' clip- overlay moving text eg: ' Ta Bom' Your body your body your body
Concept 5:
Barefoot walking, Sand Toss, Hair Arrangement, Marina Bun, Malibu beach, Her back with tan lines
Concept 6:
People talking, sweat, bright sun, long shadows, speedos
Concept 7:
Amazon Diaries - flick through mixing stills and video - electrifying colour of the amazon - GREEN - Heart Chackra
RYTHMS OF EARTH
Living beings, in general, show oscillations in their behavioural repertoire throughout the day and on specific times of the year in order to adjust to variations in environmental and climatic conditions (Krebs & Davis, 1996; Alcock, 2000). This selective pressure, which interferes with the expression of behaviour, also acts on cetaceans, influencing daily movements, habitat use and feeding regime, amongst others.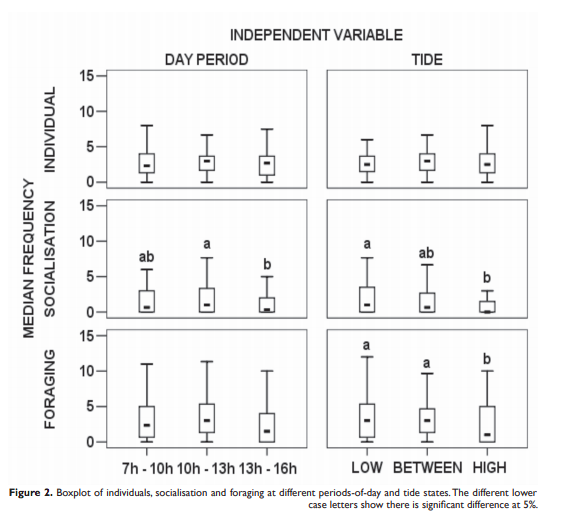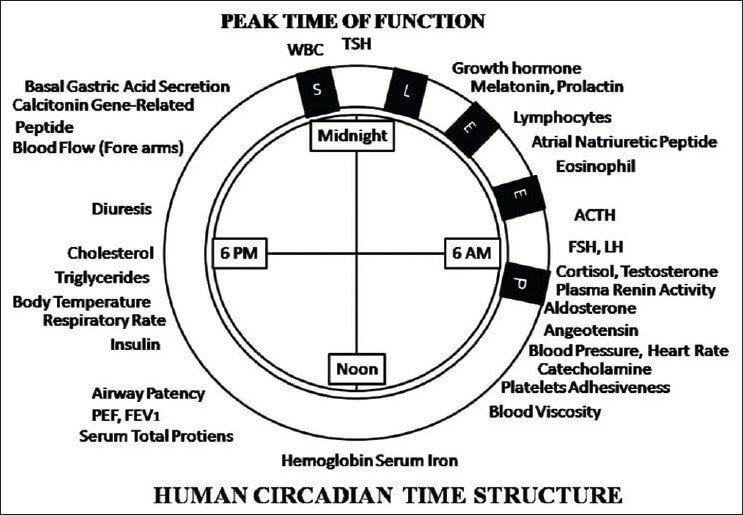 The Body You Embody
Test shoot style Vignettes video and polaroid

Asking questions about living in your body

Applying body oil - recording reactions & descriptions

Audio recordings - Voice/music/nature

Still Life fruit etc.
Inner beauty, love of movement, laughing, healthy, diversity, character - all ages/gender/backgrounds. The product is for everybody.
WEBSITE:
Fernando Website design
INSTAGRAM MOCK UP
Feed: original video content
week 1 - 1 post

week 2 - 2 post

week 3 - 3 post

week 4 - 3 post
*add # to re-introduce a video to the feed
STORIES
Stories:
Styles:
Triple Video

Click through text/poems

Overlay - Using face time proportions

Mood/objects
CONTENT
Unification across branding, content, website and product

How to utilize stories for marketing and product sales

Sam's photography for paid advertising and website consider selection for usage

Attach story to separate product
JUNGLE OIL
I know who I am
FASANO - Andrea Shoot
30+ aspiration some one to look up to relate to rather than youth, accomplished, looked after body
Strength

Connected

Sexuality

Power

Women of a certain age
FACE OIL
Make you feel at ease - Beauty
IPANEMA BEACH - group models
All ages, genders - liberty
Autonomy

Exquisite faces

Freedom

Openess

Laughter

Sensuality
CANDLE
Intimacy
NUDIE BEACH - bare skin, nude woman, ultimate freedom
All - lifestyle, mood enhancing
Moody

Memories

Soulful

Quiet power

90's B&W mood

Minimalism
Peace - Safety - Protected by nature - Freedom - Nudity - Home
BREU
Primal Power
Final day shoot - Light strips on body
All ages/genders etc. - renegade, spiritual/ritual
Fire

Raw Sexuality

Decadence

Challenge

Rebellious Nature

Spirituality
Branded shoe bag refill of Breu - consideration for customer - discussing the importance of the refill - brand loyalty
FASANO
Swimming pool shoot Trentini - Yellow cream - resort - new year?

Intention with Actor & Fasano material

Paula behind the scenes
THINGS TO CONSIDER
Brand overview - Meet with Didier to talk about continuity in the branding language - discuss placement of logo for advertisement videos etc.

Consideration and choice is opposite to entitlement culture - good attitude, work, where you are corrupting yourself?

Need to talk to women's minds as much as the face

In a nothing I do matters culture we want to PROVE IT MATTERS

EDUCATION

This is the counter revolution of the violent seizure culture

AUTONOMY

Start small - start with a question? Get going on the instagram?

Older man- Face oil aspiration for men and women - someone accomplished musician, writer

Bruce Nauman style video - for men keep it real
BRAZIL NEW CONTENT - Editing Notes for October
BLACK AND WHITE
more black and white videos

Super chic, classic 90's feel

beauty

hands on face/ Behind the scenes
BLACK AND WHITE
fantasy

born from nature

include spoken word
NATURE
over lay

sparkling water (shine in nature)

sunset zoom in reduce quality digital

psychedelic essence/ magic of plants/ dream
TEXT & NATURE
rolling text (jungle oil)

typing text (your skin)

Your Body/ My Body series



TEXT
scroll from right to left text

reading lines of poem

Karaoke




TUTORIAL/ SENSATION VIDEOS
Lara Translate

Reduce background sound?
REEL:
Andres - re-edit Look video with feeling
PRODUCT PHOTOGRAPHY:
Straight up clean shots for site:
JOSH NEFSKY - FINE ART PHOTOGRAPHER $75. per piece. $1k Max






COLOUR BLOCKING PRODUCT SHOTS:
For web stories and social Andres + Romy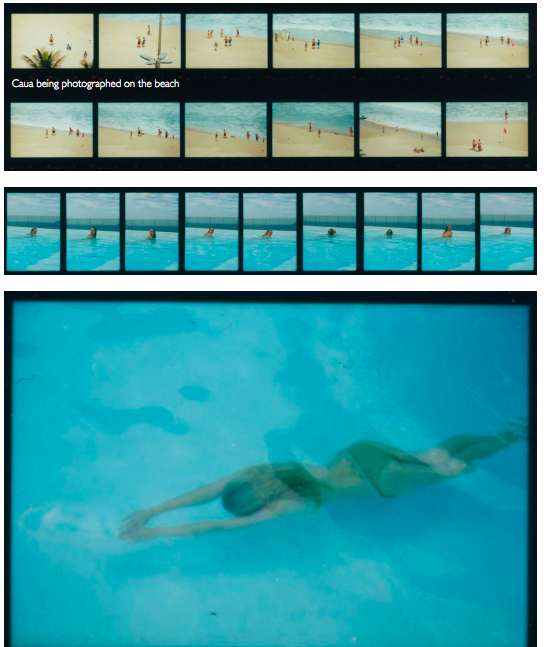 COSTA BRAZIL BRAND VALUES:
Alive

Sophisticated

Switched on

Minimal

Real

Choice

Autonomy

Activism
EXECUTION:
Art

Considered

Conceptual
WHO IS COSTA BRAZIL AUDIENCE:
20+

Women, Men, Gender Fluid

Creatives/ Entreprenure / Wellness

International

About living life to the full - respect for nature - Iconic imagery - Strength - Call to action - Activism is sexy

GRAPHIC DESIGN AND TYPOGRAPHY
BRAND ID:
CB colours

CB accompanying fonts
WEBSITE:
Template Pages - Product/ ingredients/ Journal/ About
All product description text

Fernando mock up of web

Live version of site from developers

Original photography, videos

Fonts
Deliverables: 4x template pages
MANIFESTO CARD:
NEWSLETTER:
Copy

Imagery

Video Gif/anime
ADVERTISING:
Poster - template & design large format x3
Imagery

text

format/DPI/ resolution etc.
Videos Branding templates for paid Ads on social x10
Deliverables: x3 square format videos ending brand 'cards', x5 Typography text boxes, x1 Poster template
–––––––––––––––––––––––––––––––––––––––––––––––––––––––––––
Batch 1 – Calculated with 120 hours
–––––––––––––––––––––––––––––––––––––––––––––––––––––––––––
Including:
–––––––––––––––––––––––––––––––––––––––––––––––––––––––––––
– Administration
– Analysis of existing Elements
– Branding Guidelines for print and web of the Logo, and Typography
– Branding Elements on stationary
– Usage of Typography for print and web
– Proposals for advertising
– Proposals for accompany of packaging
– Proposals of press release/manifesto
–––––––––––––––––––––––––––––––––––––––––––––––––––––––––––
Price in USD: $6000
–––––––––––––––––––––––––––––––––––––––––––––––––––––––


COSTA BRAZIL - USE OF TEXT:


TYPOGRAPHY REFERENCES:
Repetition of text

Lists

Half page division
Confidence, Maturity, Clarity, underling quality & brand message - Gallery & Art book references
Printing material: blind de-boss (white on white) Focus on texture and reduction
Web: Singular font, Typographic element, Framing
Animated Text: Movement
EDUCATIONAL: Activated and Intelligent audience - Questions and Suggestions
Ask me anything button on stories

Ask audience for suggestions create open dialogue: eg 'favourite place in brazil?' 'what are you reading?'

Create a feeling of transparency coinciding with Costa Brazil values

Text messaging screen grabs 'quote beauty' (concept will explain in person)
FC PERSONAL: to allow personality and authenticity to shine
Amazing Book Collection eg: #sundayreading

#Hightide uplifting messaging: inspirational info. handwritten by FC notes/quotes on humour/ beauty/ cheeky/ sexy

Open space - sneak peeks into process behind Costa Brazil studio

Social life - Events/ gallery visits/ travel

Idiosyncratic - real life randomness

Network - connections & fashion archival photography

Bio hacks - how to feel good (eg:calming seeds in pocket)
ACTIVISM: Social & environmental responsibility
Ask the question - how can we do this? How can we improve? Open this up to the audience invite tips from community for being resourceful/ sustainable

Rainforest Alliance - expand on connection and participation

Positive messaging - what CAN be done/ what IS being done
POSTS FOR MAIN FEED: Familiarise audience with new brand
Flick through animated inspiration/ storyboards including costa brazil themes: beauty/body/nature/art/architecture etc. ending with Costa Brazil logo at the end - building a brand ID - Demonstrating there is a new brand launching soon.
Smart and original hashtags with copywriter - begin rolling out Costa Brazil language - #shineinnature etc. Important as audience can follow hashtags in instagram
OVER LAYING TEXT VIDEO & PHOTO
PRESS PACK DESIGN
Confident Typography for Costa Brazil press pack
Use image of girl amongst boys for first page

Add numerical index

Add numbers for each page bottom left corner

Stretch out ALL BODY TYPES to create tension at edges of page

Turn text on its side for openings - Can we try the super skinny text here? like the Comme des garcons reference

Open up text even further to create more breath - See Carl Andre book reference below

Try FC quote in space mono to echo use of this font on the site

1 Product per page - I will provide you with a longer product description also

Use the renderings of Jungle Oil and Face Oil - and please 'cut out' Cans - Make a super thin outline tracing a square for the product

Ingredients page to be divided into two pages - 1 raw ingredients (image to be provided) 2. line up of bottles and list of ingredients

Remove ACT NATURAL page

Swap out Conservation International image for new one that will be provided & add logo
additional pages to be put in throughout:
Add in exposed font (as in image below) this is to demonstrate transparency of process

Add in word page - Last page.

Add in quote ' I love the un-film, the almost film, the overly long film, the film with visible cracks, the film the reveals its guts' Beatriz Santiago Munoz - Artist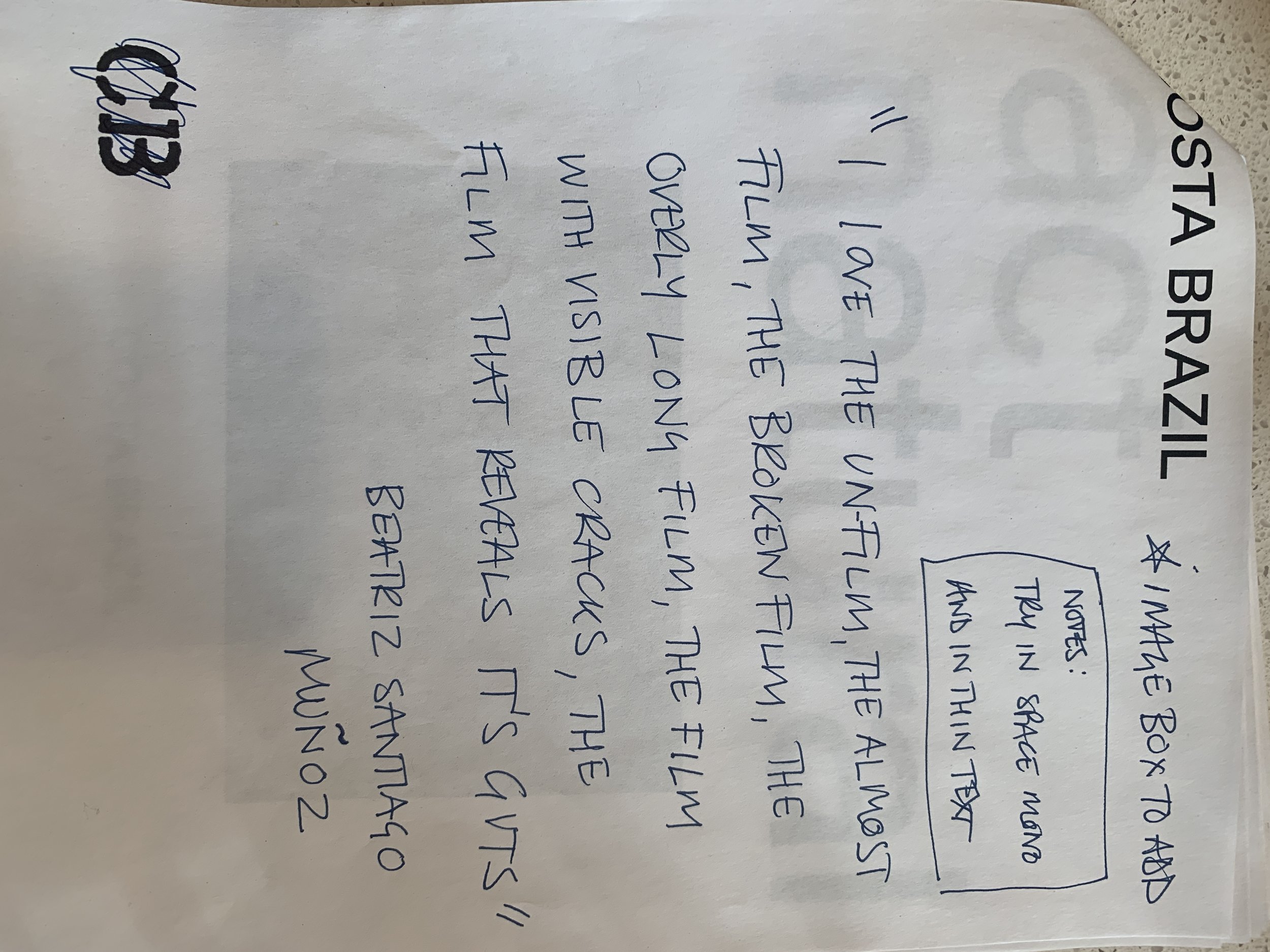 PHOTOGRAPH PACKAGING
packaging laid out flat - telling complete story of brand
refinement of use of text and fonts - very important that this aligns with the branded materials accross the board
refer to the brand book
signatures for emails.

mail chimp

letter head

packaging

website

printed material